Upcoming and past lectures held at the colloquium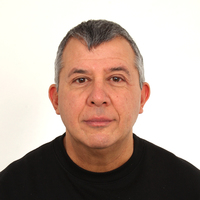 Time: December 18, 2019 at 12:00PM
Lecture room: A001
Andro Mikelić
Université Lyon Claude Bernard Lyon 1
Interface and wall laws by homogenization
About the lecturer: Andro Mikelić was born in Split, Dalmatia, Croatia where he completed his basic education. He graduated from the Faculty of Natural Sciences and Mathematics, University of Zagreb, Croatia and obtained his Ph.D. degree in mathematics in 1983 from the same university. He was awarded the Leverhulm Trust postdoctoral positions at the Imperial College, London and at the University of Sussex in 1986-1987 and the Fulbright and Humboldt scholarships in 1991 and 1992. Since 1992, he has been a Professor of applied mathematics at the Université Claude Bernard Lyon 1, Lyon, France. He became a Full Professor at same university in 2000 and a Full Distinguished Professor in 2011. From July 2002 to July 2006 he was the Vice Chairman of the Faculty of Mathematics (l'UFR Mathématiques), Université Lyon Claude Bernard Lyon 1. From January 2011 to December 2013 he was awarded the W. Romberg Guest Professorship at the Universitat Heidelberg. In 2012, he was awarded the Interpore Procter and Gamble Award for Porous Media Research. Since June 2014, he is a corresponding member of the Croatian Academy of Sciences and Arts. He has published more than 177 research papers with many different coauthors and his research activities include: Homogenization theory and applications (Research on homogenization of the pore level Navier- Stokes and Euler equations and equations describing multiphase flows through porous media, with the goal of finding effective filtration laws. Determination of effective constitutive laws at the interfaces porous medium / free fluid and the wall laws describing rough boundaries. Stochastic homogenization. Blood flow modeling. Reactive flows with dominant Péclet and Damkohler numbers) and PDEs in fluid mechanics. See http://scholar.google.fr/citations?hl=fr&user=T2fX7akAAAAJ&view_op=list_works
Lecture abstract: The homogenization theory has been applied with success to provide effective mathematical models for the composite materials, porous media and other heterogeneous structures. By considering simultaneously models at different scales, the homogenization theory allows to derive an efficient macroscopic model which preserves the accuracy of the microscopic models. Since early seventies, it was possible to develop several analysis tools as the energy method of Tartar, the two-scale-convergence, Bloch's waves and so on. They were applied with success to problems from sciences and engineering. Nevertheless, these techniques break down in the presence of interfaces and rough boundaries. Namely, the homogeneity is broken in the normal direction and the basic ideas of the 2-scale expansions are not applicable. The remedy consists in including the boundary layer effects. The aim of the lecture is to present results on the interface laws between porous media flows and a free viscous flows and on the computation of the effective slip over a rough boundary.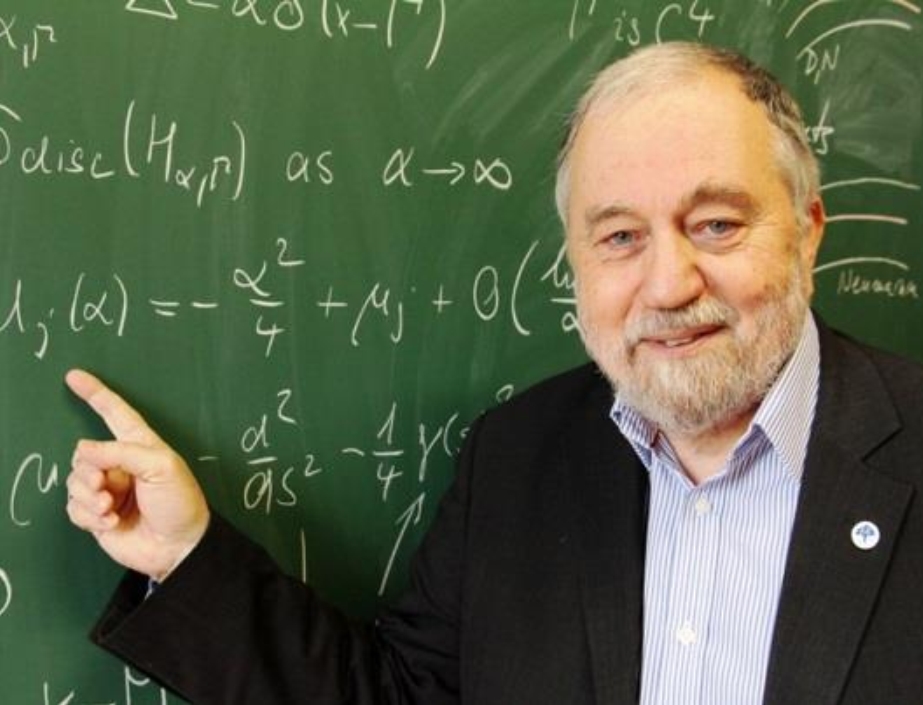 Time: July 10, 2019 at 12:00PM
Lecture room: (A101)
Pavel Exner
Doppler Institute for Mathematical Physics and Applied Mathematics, Prague
Spectra of periodic quantum graphs
About the lecturer: Pavel Exner is the scientific director at the Doppler Institute, Prague, Czech Republic. He graduated from the Charles University and obtained a DrSc degree from the JINR Dubna institute in 1990. He worked at the Charles University, Joint Institute for Nuclear Research, Dubna and is currently employed at the Czech Academy of Sciences. His research is concerned with spectral and scattering properties of quantum waveguides, quantum mechanics on graphs and manifolds, decay and resonance effects. He held the following offices in the international organizations: European Math. Society: Vice-president 2005-10, President 2015-18. International Association of Mathematical Physics: Secretary 2006- 08, President 2009-11 IUPAP: Commission Secr. and Chair 2002-08, Vice-president 2005-08. European Research Council: Scientic Council Member since 2005, Vice-president 2011-14 Academia Europaea, Section Vice chair 2012-18, Chair since 2018. Selected awards include: JINR First Prize 1985, elected member of Academia Europaea 2010, Neuron Prize 2016.
Lecture abstract: This talk deals with relations between topology and spectra with the aim to show that a nontrivial topology of the configuration space can lead to a variety of spectral types. We focus on second order equations used to describe periodic quantum systems. Such a PDE in a Euclidean space has typically the spectrum which is absolutely continuous, consisting of bands and gaps, the number of the latter being determined by the dimensionality. If analogous second-order operators on metric graphs are considered, a number of different situations may arise. Using simple examples, we show that the spectrum may then have a pure point or a fractal character, and also that it may have only a finite but nonzero number of open gaps. Furthermore, motivated by recent attempts to model the anomalous Hall effect, we investigate a class of vertex couplings that violate the time reversal invariance. We find spectra of lattice graphs with the simplest coupling of this type and demonstrate that it depends substantially on the parity of the vertices, and discuss some consequences of this property.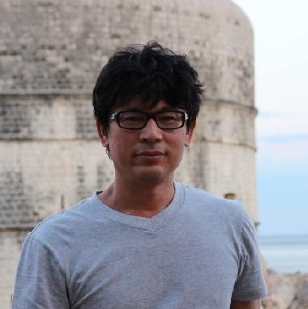 Time: May 22, 2019 at 12:00PM
Lecture room: (A001)
Tomoyuki Arakawa
Research Institute for Mathematical Sciences, Kyoto University
4D/2D duality and representation theory
About the lecturer: Tomoyuki Arakawa is Professor at Research Institute for Mathematical Sciences (RIMS), Kyoto University, Japan (2010–). He was educated at Kyoto University and at Nagoya University, Japan. His research is concerned with representation theory and vertex algebras. He was awarded MSJ Takebe Katahiro Special Prize (2004), JSPS Young Scientist Prize (2008), MSJ Algebra Prize (2013), MSJ Autumn Prize (2017), and JSPS Prizes for Science and Technology (2019). He was an invited speaker at the International Congress of Mathematics in Rio de Janeiro in 2018.
Lecture abstract: Physical theories often predict interesting dualities in mathematics. In this lecture I will talk about a certain remarkable duality arising from 4-dimensional N=4 superconformal field theories in physics, which was recently discovered by Beem and Rastelli, inspired by a work of Anne Moreau and myself.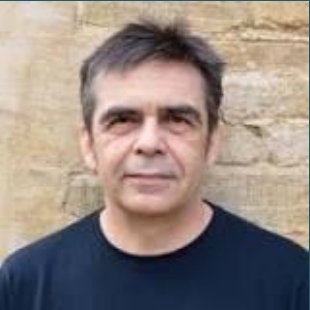 Time: December 19, 2018 at 12:00PM
Lecture room: (A001)
Endre Süli
Mathematical Institute, University of Oxford
Galerkin methods in the 21st century
About the lecturer: Endre Süli is Professor of Numerical Analysis in the Mathematical Institute, University of Oxford, Fellow and Tutor in Mathematics at Worcester College, Oxford and Chair of the Faculty of Mathematics at the University of Oxford (2018--). He was educated at the University of Belgrade and at St Catherine's College, Oxford. His research is concerned with the mathematical analysis of numerical algorithms for nonlinear partial differential equations. Endre Süli is a Foreign Member of the Serbian Academy of Sciences and Arts (2009), Fellow of the European Academy of Sciences (2010), Fellow of the Society for Industrial and Applied Mathematics (SIAM, 2016) and Fellow of the Institute of Mathematics and its Applications (FIMA, 2007). Other honours include: Charlemagne Distinguished Lecture (2011), IMA Service Award (2011), Professor Hospitus Universitatis Carolinae Pragensis, (2012–), Distinguished Visiting Chair Professor Shanghai Jiao Tong University (2013–), President, SIAM UK and RI Section (2013–2015), London Mathematical Society/New Zealand Mathematical Society Forder Lecturer (2015), Aziz Lecture (2015), BIMOS Distinguished Lecture (2016), John von Neumann Lecture (2016). He was invited speaker at the International Congress of Mathematicians in Madrid in 2006, and was Chair of the Society for the Foundations of Computational Mathematics (2002–2005).
Lecture abstract: The mathematical analysis of numerical methods for partial differential equations (PDEs) is a rich and active field of modern applied mathematics. The steady growth of the subject is stimulated by ever- increasing demands from the natural sciences, engineering and economics to provide accurate and reliable approximations to mathematical models involving PDEs whose exact solutions are either too complicated to determine in closed form or, in many cases, are not known to exist. While the history of numerical solution of ordinary differential equations is firmly rooted in 18th and 19th century mathematics, the mathematical foundations of the field of numerical solution of PDEs are much more recent: they were first formulated in a landmark paper Richard Courant, Karl Friedrichs, and Hans Lewy published in 1928. The aim of the lecture is to survey recent developments in the area of numerical analysis of partial differential equations, focusing in particular on discontinuous Galerkin finite element methods, whose mathematical analysis has been an area of active research during the past decade.