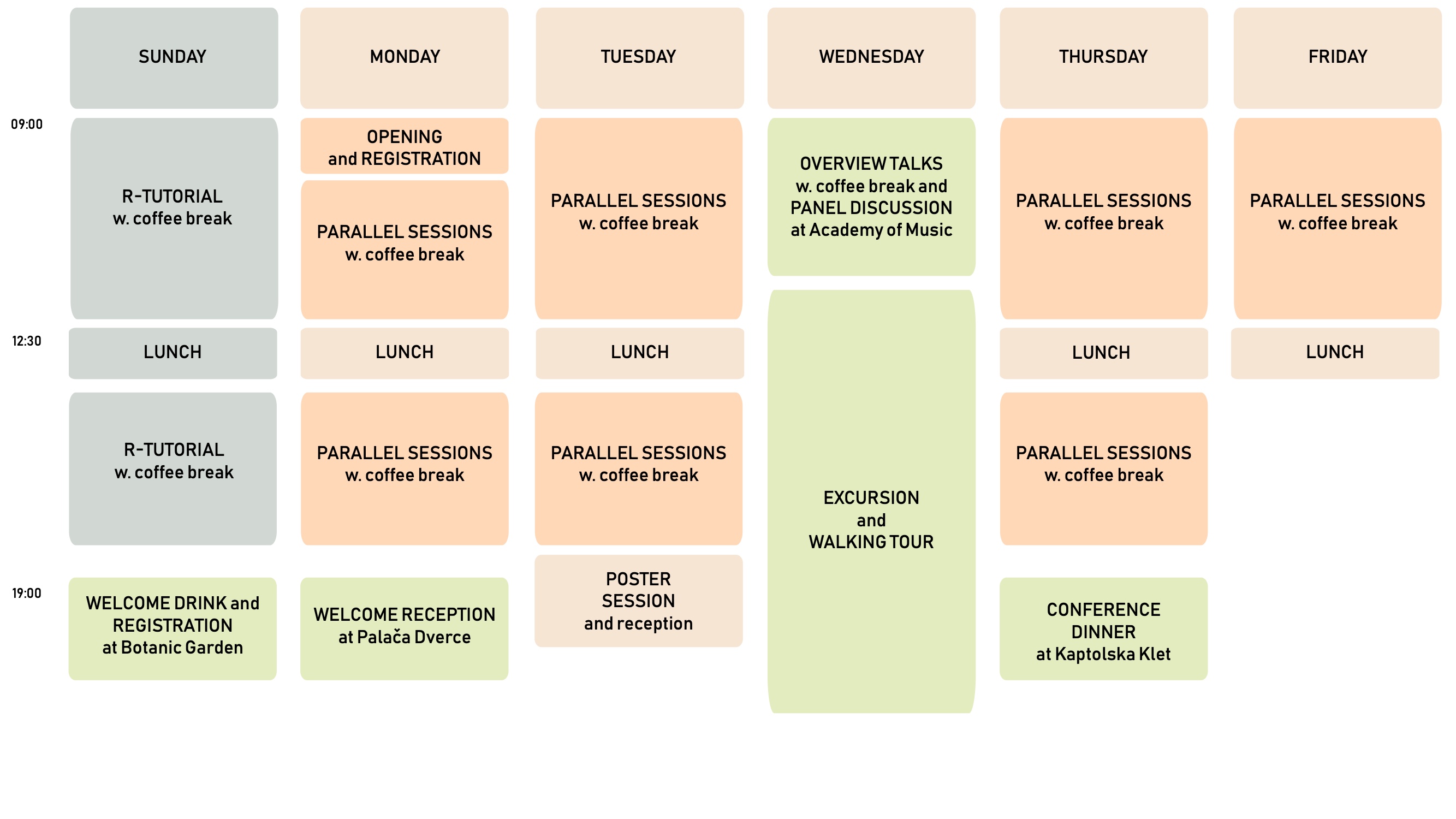 Detailed program of the conference can be found here.
The Book of abstracts (including abstracts of both oral and poster presentations) can be found here. Note that the Book af abstracts will not be printed.
List of all speakers together information about title, session and time of the talks can be found here.
Posters
List of all poster presenters can be found here.
Poster session is scheduled for Tuesday, 17:15 - 19:30. It starts at 17:15 with the Poster blitz session in the room 003 - the list and order of speakers can be found here. Immediately following this session is the poster setup session in the lobby of the building together with some snacks and drinks.
Please bring your posters (printed) at the registration desk in the lobby of the building on Tuesday during lunch time (12:30 - 14:00).
Program updates:
IS ST – Regular variation: history, ideas and people - Lecture of Miodrag Mateljević scheduled for 12:25 – 12:55 has been cancelled. Laurens de Haan's lecture will start at 12:35.

OCS - Inferences on extremal index (Markovich) - The talk by M. Ivette Gomes is moved from 14:00 – 14:20 to 14:50 – 15:10, and it will be presented by Natalia Markovich. The talk by Paul Northop which was scheduled for 14:50 – 15:10 is cancelled. This means that there is no talk at 14:00 – 14:20.
Monday

Time
Session
Room
8:30 – 9:15
Registration & Coffee
9:15 – 9:45
Opening
003
9:45 – 10:30
Group photo
10:30 – 12:15
IS - Predicting extremes
003
IS - Extremes of branching walks and free fields
A001
Bayesian methods for environmental extremes
A002
Tail index estimation
A101
12:15 – 14:00
Lunch
14:00 – 15:45
IS - Spatial extremes
003
IS - Mixtures of dependence types
A001
Environmental extremes
A002
Limit theorems
A101
15:45 – 16:15
Coffee break
16:15 – 18:00
IS - Extremes and machine learning
003
IS - Advances in statistics of multivariate extremes
A001
Best student paper award I
A002
Limit theorems II
A101
19:00 – 21:30
Welcome reception at Palaca Dverce

Tuesday

Time
Session
Room
8:30 – 9:00
Registration
9:00 – 10:45
IS - Extremes and climate physics
003
IS ST - Simulation of rare events and extremes
A001
Statistics for time series
A002
Best student paper II
A101
Copula based methods
A102
10:45 – 11:15
Coffee break
11:15 – 12:30
New areas for EVT
003
Modelling changes in environmental extremes
A001
Financial extremes II
A002
OCS - Extremal dependence modelling
A101
Ruin probability
A102
12:30 – 14:00
Lunch
14:00 – 15:45
IS - Heavy-tails and networks
003
IS - Sub-asymptotic spatial extremes
A001
Peaks over threshold
A002
OCS - Inferences on extremal index
A101
15:45 – 16:15
Coffee break
16:15 – 17:05
Statistical learning methods
003
Multivariate Extremes
A001
Gaussian processes
A002
Best student paper III
A101
Prediction
A102
17:15 – 18:00
Poster blitz session
003
18:00 – 19:30
Posters and reception

Wednesday - Academy of Music

Time
Session
8:30 – 8:45
Registration
8:45 – 10:20
Overview talk:
Practical issues in the statistics of environmental extremes
10:20 – 10:35
Coffee break
10:35 – 11:15
Panel discussion:
The practice of extreme value statistics - new and old
11:15 –

Lunch to go and Excursion/Walking tour

Thursday

Time
Session
Room
8:30 – 9:00
Registration
9:00 – 10:45
IS ST - Regular variation: generalisations and recent advances
003
IS - Financial extremes
A001
IS - Model assessment in spatial extremes
A002
Tail inference
A101
Product quality
A102
10:45 – 11:15
Coffee break
11:15 – 12:30
Flood risks
003
Tail dependence
A001
Finance and Economics
A002
Computationally intensive methods
A101
Testing and inference
A102
12:30 – 14:00
Lunch
14:00 – 15:45
IS - Detection and attribution of climate change
003
IS - Topological and geometric extremes
A001
IS - Time series extremes
A002
Conditional extremes
A101
15:45 – 16:15
Coffee break
16:15 – 17:05
High-dimensional data
003
Data contamination
A001
Models with clusters
A002
Industrial applications
A101
19:00 – 22:00
Conference dinner at Kapotolska klet

Friday

Time
Session
Room
8:30 – 9:00
Registration
9:00 – 10:45
IS ST - Hydrology and extremes
003
IS ST - Infinitely divisible models and their extremes
A001
IS - Extremes on graphs
A002
Inference for censored data
A101
10:45 – 11:15
Coffee break
11:15 – 13:35
Data Challenge
003
IS ST - Regular variation: history, ideas and people
A001
IS - Risk analysis in insurance (to 13:00)
A002
Max-stable fields (to 12:55)
A101
13:00 – 14:30
Farewell lunch
<![if supportMisalignedColumns]> <![endif]>